Mobile home or unusual accommodation?
OUR
mobil-homes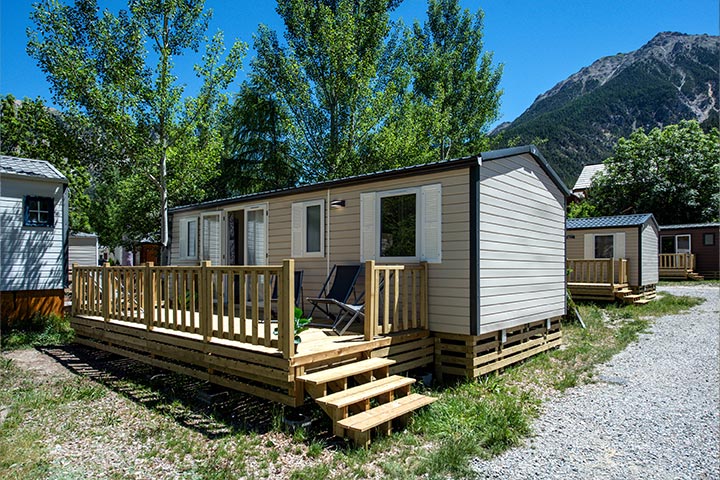 Mobile home Trigano Confort – 3 bedrooms + TV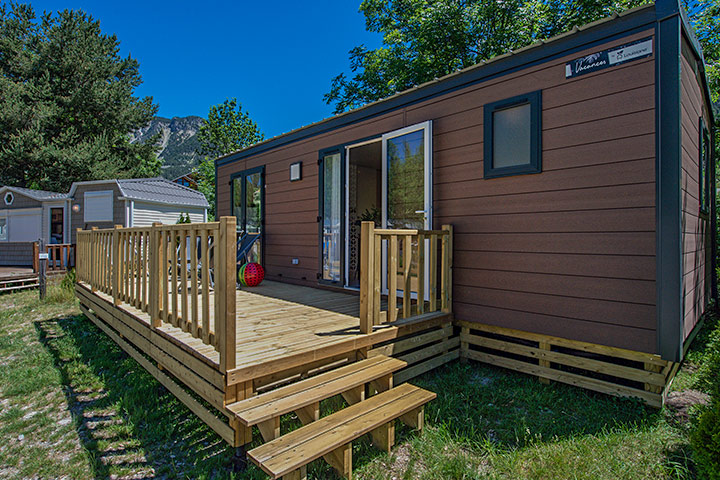 Mobil-Home Louisiane Confort 2 bedrooms + TV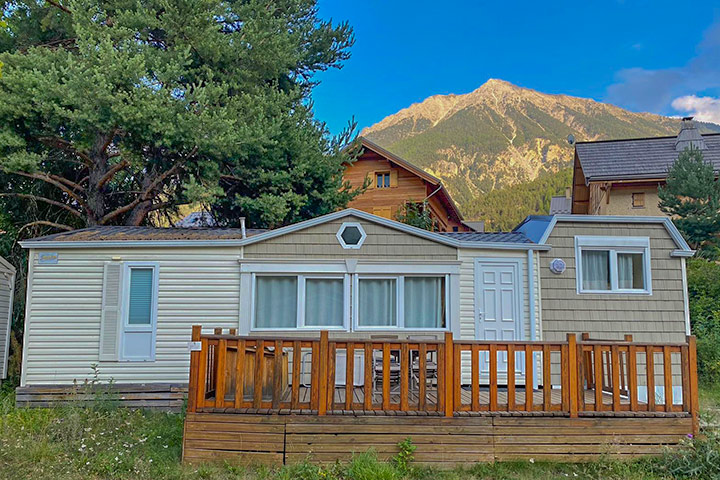 Mobile home Premium 40m² – 3 bedrooms + LV + LL + Terrace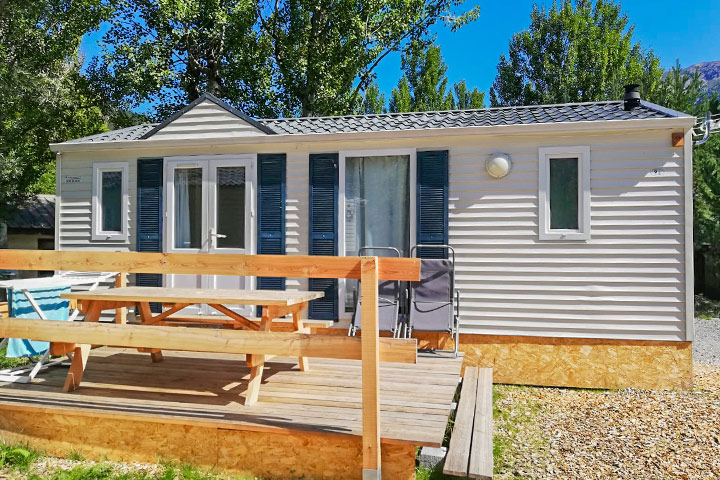 Mobil-Home Louisiane Confort 2 bedrooms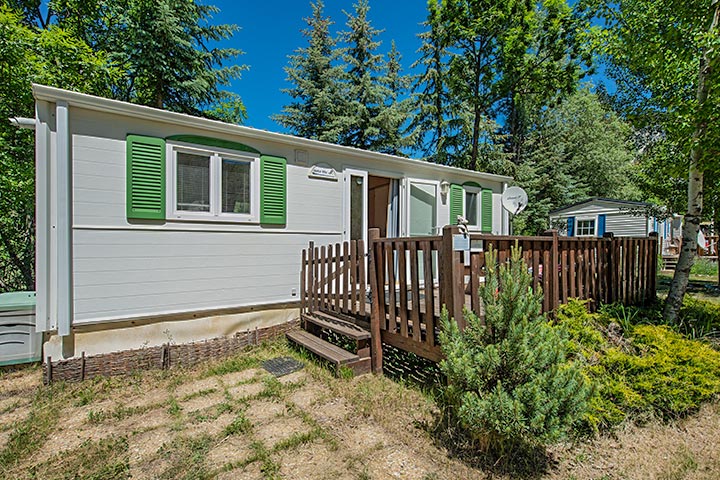 Mobile home comfort 2 bedrooms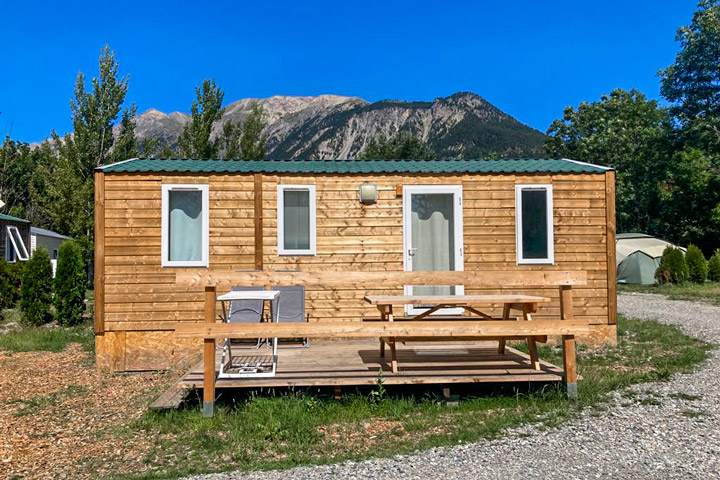 Cottage Montana Confort 32m² – 3 Bedrooms + TV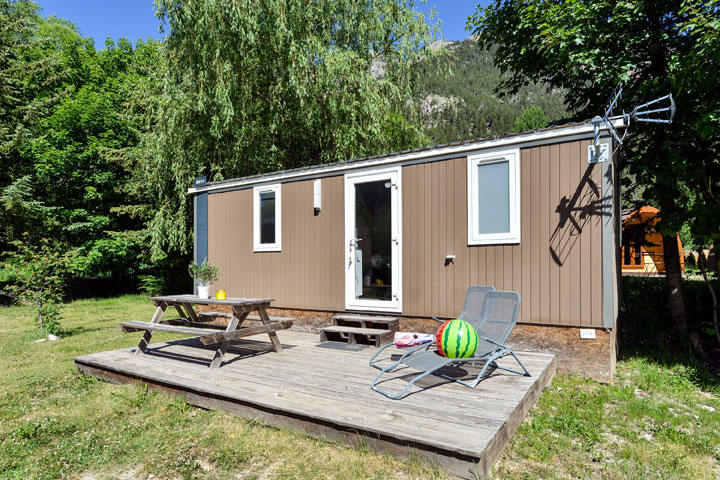 Cottage Montana Confort 28m² – 2 bedrooms + TV
OUR
tents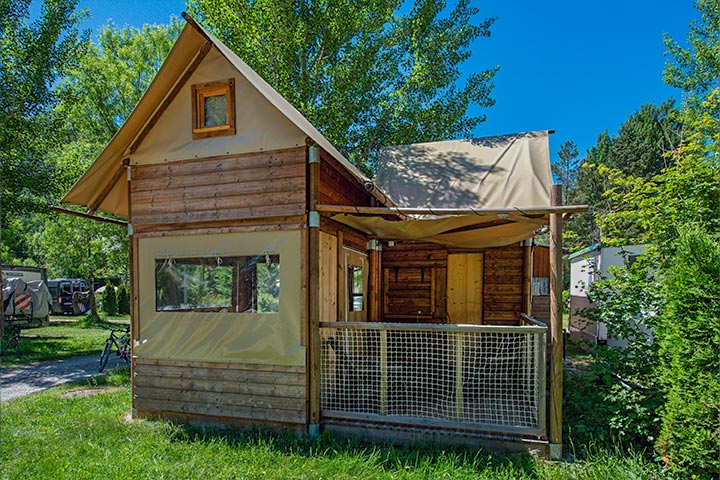 Caba tent Standard 25m² – 2 bedrooms – with bathroom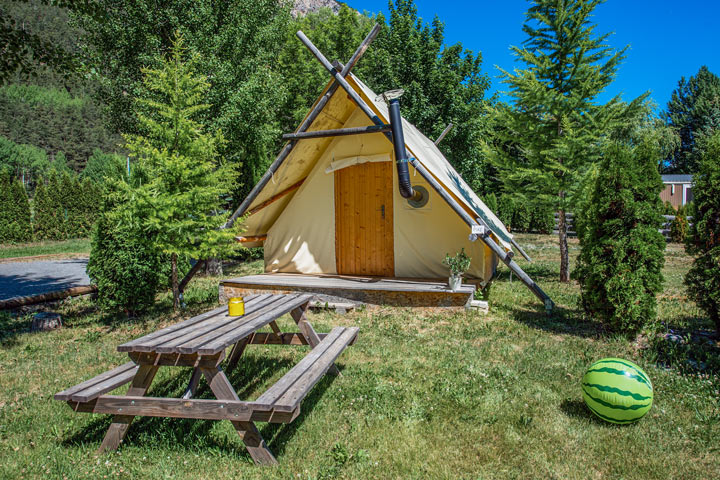 Prospector Tent 21m² – without sanitary facilities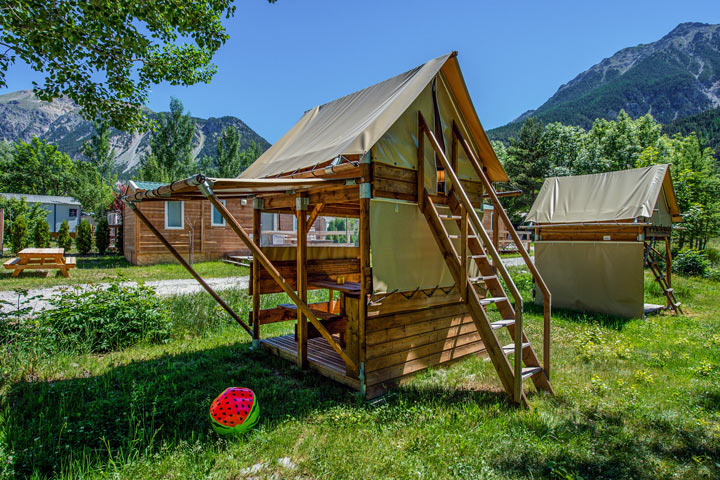 BIVOUAC Standard tent 10 m² – without sanitary facilities
OUR ACCOMMODATIONS
insolites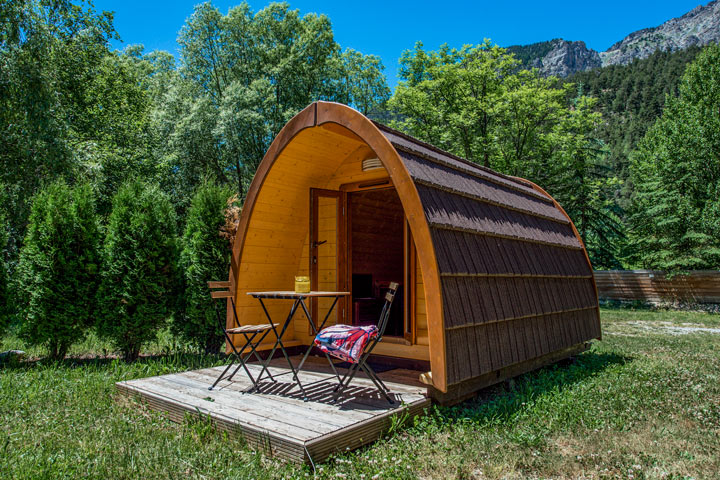 Unusual Accommodation Pod 6m² – without sanitary facilities – isolated 4 seasons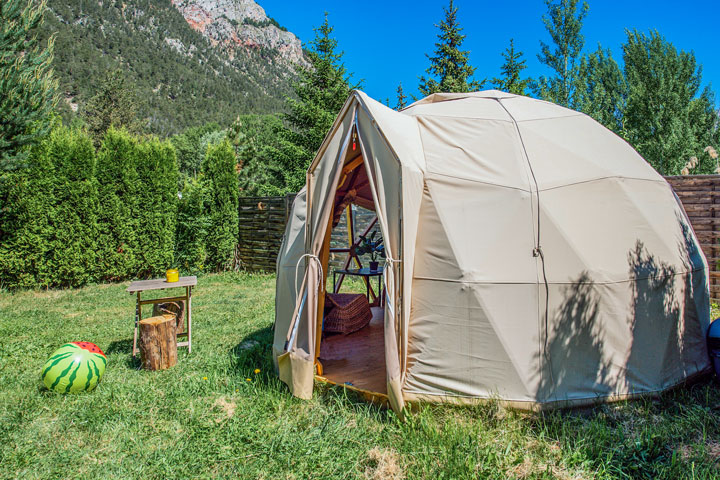 Unusual Accommodation Dome 12m² – without sanitary facilities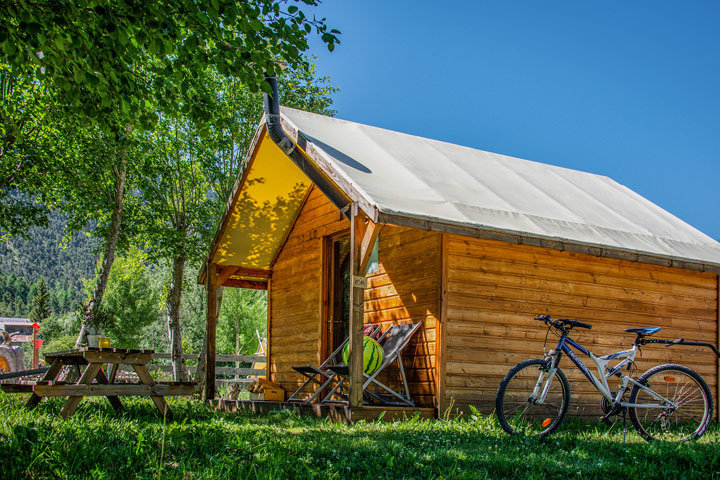 Chalet Wall lodge Standard (1 room) – without sanitary facilities
All our rentals
in the Hautes-Alpes
You will feel
at home
A small terrace for sunny days
Are you looking for a mobile home rental in the Hautes-Alpes? Le Montana campsite, located in the commune of Val-des-Prés, welcomes you to its low-cost, comfortable accommodation in the heart of nature.
By choosing a mobile home with a terrace, you are sure to have a great time with your family or friends. Over a good meal or during an afternoon of board games, you can breathe in the fresh mountain air under the sun of the Hautes-Alpes.
Are you a large group?
We can accommodate up to 8 people
Would you like to spend a holiday with several people and share a rental accommodation? We can accommodate up to 8 people in the same mobile home for your stay with family or friends.
The 3-bedroom Montana cottage is particularly comfortable for 6 to 8 people. You can also book bare pitches for caravans, motorhomes and tents for 2 to 6 people.
Your nature stay in our wooden tents
in Val-des-Prés
This rental will leave you with
an unforgettable memory
Experience glamping by renting a comfortable tent in Val-des-Prés! It will leave you with wonderful memories of your holiday in the Hautes-Alpes. Our pre-installed tents can accommodate 2 to 5 people depending on the accommodation chosen.

Pets are also welcome at an additional cost
Camping Le Montana offers you the opportunity to stay in a comfortable tent in one of three different types of accommodation. Your choice depends on the season you decide to come to Val-des-Prés. The standard Cabatente with sanitary facilities and wooden structure is suitable for winter temperatures, as are the Prospecteur tents with wood-burning stove. The bivouac tent, on the other hand, is more suitable for the warmer seasons.
Unique experience
in an unusual accommodation
Beautiful glamping accommodation for you!
To enjoy camping in a different way with all the possible comfort, glamping is the ideal solution! You will certainly spend atypical holidays full of charm in the Hautes-Alpes with our unusual accommodation.

Wooden hut, dome, mobile home, cottage, prospector's tent… the most beautiful accommodations are waiting for you in Val-des-Prés.
Cosy atmosphere or head in the stars?
Would you like to spend an unforgettable holiday in an atypical environment?
Our unusual accommodation in Val-des-Prés ensures a sensational stay close to nature. With its panoramic opening, the Dome will delight couples who want to have stars in their eyes.
Offering a more cosy atmosphere, the Pod wooden hut, the mobile homes for rent and the pitches welcome you in all seasons in a green setting.
The advantages of our accommodation
A variety of accommodation for all your needs (mobile homes, cottages, tents)
Unusual accommodation for a total change of scenery
Accommodation for bikers, walkers and cyclists on rainy evenings (bivouac tents, POD)
Mountain views from any location
CAMPERS' OPINIONS ON OUR RENTALS
Very pleasant campsite, great welcome, good sanitary facilities, very nice high tents, clean and warm swimming pool.
Breakfast at the top! Bread and groceries sold on site.
Possibility of going to eat at 3min walk.
To recommend and do not hesitate to come and sleep there!
Very well situated campsite between Briançon and Névache.
Very clean and well maintained accommodation.
Very welcoming staff with a manager who takes great care of his clients.
I highly recommend this campsite and will probably come back next time I'm in the area.
I wish you all the best.
A great campsite with a cool welcome from Christophe, who listens, is helpful and has a great mobile home, very clean, and a splendid setting. There is everything you need for a good price. Briançon is next door. Thank you Christophe for this short stay we will return.
DISCOVER THE SWIMMING POOL, THE PITCHES AND
THE PRICES OF OUR CAMPSITE